Primadonna Magazine is Empowering Women Through Substance + Style! Beyond Beauty Brunch Business + Branding! " The Power of Becoming HER " is a Transformative Experience Designed to Inspire and Empower Women to take action! Our innovative events are designed to help transform how Women think! We believe simply by changing the way you think and the words you speak will change your life! However the transformative process can be a long journey! Our teachings are Purposeful + Powerful! Primadonna's Programs +Process are truly impactful and will help change your Life! Women of Power are developed and to achieve Women's Empowerment takes courage, strength and the ability to walk in authenticity! Even if you have to go alone! The key to modern storytelling is to be more straightforward that means you walk the talk. You ARE branding you. It means that you're telling your story because you BELIEVE IT – better yet, because you've LIVED IT.
Providing tools and resources for Spiritual Entrepreneurial Women! True creative expressions which can lead to authentic Women's Empowerment! Our goal is simple we want Women to make decisions, based on who they are called to be by God! Unapologetically build an authentic brand that belongs to them! And as they run and grow their business they make impact in the world! The goal is to curate content for her that provides Customized Brand Identity! The Primadonna Experiences is a Lifestyle of Transformation and Entrepreneurship! We understand life's adversities can really paralyze Women! Our passion is to give Women opportunities and resources to make changes from within as they rebuild their mindset! Which will transform their Personal + Professional lives! We understand overcoming life's adversity is not necessarily easy! Primadonna offers a community of like-minded Women who have walked through their own fires! And now are overcomers! The Primadonna Perception+ Perspective is our Father is a King! That makes us Royalty! So we must begin to act and walk from that Position! Real Queens fix each other's Crowns! That's absolutely right PRIMADONNA Rock Your Crown!
Our Editor + Publisher Madonna Alexis has changed the way she speaks and thinks as well!
Her new Affirmations + Confessions are Speak what you want to see until you are LIVING it!
" Primadonna Magazine is Purposeful, Powerful + Prosperous! "
" Crawl if you cant Walk! However never stop moving towards your Destiny + Purpose!
Because God always has a plan!" https://www.instagram.com/primadonnamagazine/?hl=en
https://www.instagram.com/madonnaalexis/?hl=en
About The Event: Girls Compete with Each Other! Women Empower one Another! The Power of Becoming HER is a Purposeful and Powerful one day event! The Beyond Beauty Brunch Business + Branding is designed to Empower, Inspire and Motivate Women by empowering them with Biblical principles, and a panelist of Women leaders from our communities. We sincerely love and adore Women! Our Hope is that The Primadonna Philosophy " The Power of Becoming " will be infectious! "We are truly better together! Come let's grow together!"
Beyond Beauty Brunch Business + Branding offers the latest information on transformative concepts that translate into Empowering Revelations for development on Becoming! Which is a Woman Leader in Ministry, Marketing, Business and Branding! Personally and Professional She becomes a PRIMADONNA! A Real Lady! A Star Rocking Her Crown! Yes there's Beauty for your Ashes!
Beyond Beauty Bunch Experience 2019
Angelika__lynn Bridal/Glamour professional Make Up Artist Angie Mejia Created Celebrity Inspired Make-up Looks! We had one model not show up and had to make adjustments! However she handled it just like the Professional she is! Well done Primadonna! https://www.instagram.com/angelika__lynn/?hl=en https://www.facebook.comangie.mejia.9047506?epa=SEARCH_BOX
Fashion Model Raven Makayla is finding her stride in the Fashion & Modeling industry! https://www.instagram.com/ravenmakayla/?hl=en For business inquiries Prolific Worldwide Attn: H. Albert 888-200-9550
Beauty + Fashion Model Gabrielle Timothy is an Agency Represented Orlando Florida Model. Booking gigs and traveling is her passion! ttps://www.instagram.com/timothygabrielle/?hl=en
Inspired by Celebrity Make-up Tutorials!
Elizabeth is the CEO and Founder of GLITZ N GLAMZ COSMETICS Enhancing inner beauty with vegan highly pigmented cosmetics for all skin tones, texture and ages. She did a fantastic job demonstrating how you can take a full face of professionally applied makeup and transform the look! She did a live presentation while standing in heels looking beautiful six months pregnant and all! The beauty looks went to the next level with glitters, highlighters and bronzers! Her cosmetic line was everything! The women really loved GLITZ N GLAMZ COSMETICS and purchased many pieces! Great job doll! https://www.glitznglamz.com
https://www.instagram.com/glitterglam3ly/?hl=en
Learn How to get that J-Low Glow with Airbrush Tanning
Demonstration By Catalyst Salon Meet Owner & Educator Jena Lynn Mehlberg she is the owner of Catalyst Salon | Licensed Esthetician | Mom | Beauty Business Educator. She did an amazing job transforming a Woman of Color into a Golden Goddess! All the attendees were so excited to see the transformation from looking good to looking absolutely gorgeous! Jena created abs, muscle definition and flawless looking skin with her Spray Tanning Technique! All the attendees were amazed and so excited! By the way Prima she is currently hiring! https://saloncatalyst.com/
Jena is so excited to announce she is accepting applications to be a part of the salon!" These last few months we have been working overtime to make sure that we created the best space possible for you to have the business of your dreams!" Come work with a team full of energetic women in an environment of teamwork and happiness! Send us an email at saloncatalystfl@gmail.com to apply today — with Gina Laudano.
Get The Designer Look
Presented by: Fashion Designer De Johnea Thorpe
Dé Johnea Bianca is a designer from Maryland and is currently located in the Tampa Bay area. She first found interest in fashion when she couldn't find anything to match her unique style. So she decided to study Fashion and Design at International Academy of Design & Technology. After graduation she launched her company Dé Johnea Bianca LLC . This was not necessarily an easy thing to do! However Dé Johnea is a strong believer that you can do anything you put your mind to! This mindset was her motivation throughout the years. The Dé Johnea Bianca LLC brand's concept is making Women and Men comfortable wearing her designs and garments. https://dejohneabianca.com
" HOW TO CREATE A SIGNATURE LOOK FOR YOUR BUSINESS "
Celebrity Makeup Artist, Educator Founder of Love your Beauty University Mimi Foxx is a Beauty Coach! She Helps Business Babes Create Captivating Presentations Using the Power of Makeup! Her passion is inspiring business Women to create their Unique Signature Look that will elevate their Professional Image, Business and Brand!
Mimi Foxx Celebrity Makeup Artist https://www.instagram.com/mimifoxx/?hl=en http://www.mimifoxx.com/
Meet Hairstylist Extraordinaire Tammica Simone
Tammica Simone, is a professional cosmetologist with 18 years of experience in Beauty, Fashion & Editorial, specializing in natural hair grooming, and hair extensions. Having received her cosmetology license in 1998 she opened her first salon in 2005. In 2008, she decided to further her career in pursuit as a freelance hair and makeup artist. She moved to Miami to work closely with the agency Artists by Timothy Priano and as well as a stylist at Ted Gibson Salon in Ft.Lauderdale, FL. Tammica has also worked with agencies Ken Barboza in NY and Crews Inc in Atlanta Georgia.

Putting her training in effect, from 2008 to present via Runway Shows, Magazines and Special Events that included weddings, movie sets and makeovers, she has the ability to create a diverse range of looks for any project. In 2014 she opened Studio 115 Barber and Salon with a male partner/barber. With her love of always creating a luxury experience for her clients, she created the beauty brand "So First Class" which offers luxe hair extensions and products. Providing beauty and hair care tips for her clients, her philosophy stresses the importance of a holistic lifestyle that emphases that real beauty comes from within. Unselfish in her business skillfulness, she is passionate about assisting fellow artist and colleagues to achieve their personal and professional goals of becoming successful working artists.
Presented By: "Primadonna Magazine Tropical Island Vibes "
https://www.instagram.com/toyingwithmakeup/?hl=en
Toya believes and shared with us " No matter your age, gender, skin tone or ethnicity, Rodan + Fields® products can help you to achieve healthier, younger-looking skin. As an R+F Independent Consultant, I love that I am able to help people live better in their skin and become more empowered in their lives. When my Customers ask me how they can achieve clearer, more radiant-looking skin, I tell them that the R+F secret to great-looking skin is Multi-Med Therapy®, using the right ingredients in the right formulations and applying them in the right order. From their cleansers to their sunscreens, all R+F products are specially formulated to complement each other. I have seen with my own eyes the powerful effects of these products. And I always look forward to seeing and celebrating my clients results. "
THE CREATIVE COLLABORATION
Jamila Anderson -Nicholson HOAJ Events & Design CEO/Creative Director · She provides Event Planning & Interior Decor Services! Jamila's collaboration with the Primadonna team help to make the decor more beautiful! Such a talent! Jamila is often mistaken for a Fashion Model! Our editor wanted her to fill in for the missing model! Lol! Nevertheless she was such an asset to the creative process! Open and willing to share and be an asset! Jamila shared valuable tips about branding! She's such an Art Aesthete. In case you are wondering an Art Aesthete is someone who claims to be concerned only with matters of art and beauty and is known as an aesthete…. It's from this idea of emotional sensitivity that the word aesthete came about in the late 19th Century as a noun for someone who greatly appreciates beauty and the arts. When she was introduced to Artist Kristy Lee, she was child like! So elated to meet her! She took Kristy Lee captive! That is Jamila! Madonna our editor say's "she's never letting her go!" Well done darling!
Becoming|Primadonna get your Lifestyle in Order
Meet Tye Hinson Style & Beauty Expert |Pro MUA at Tye Beauty and Prime and Painted. She is a Licensed Interior Stylist & Esthetician. Her brand Prime and Painted presented a great topic and discussion on Self Care | Self Love | Self Confidence! The highlight of her presentation was the closing topic on getting your surroundings in order! She gave us many nuggets and takeaways! Tye actually quizzed the attendees at the end! Tye is currently writing her first book! We are confident her book will have many inspirations with a variety of new channels and technologies to improve shopping experiences and enhance lifestyles. Whether you will need help discovering your style or learn a new way to design your space. *Inside note Tye is 6 feet tall and was one of Primadonna's first fashion Models back in 2008! As the event was wrapping up Madonna was emotional and said " I love you!" She humbly smiled, politely and quietly whispered " I am Proud of you". The journey of life continues…
Boris Douglas Garbe Gallerist Talks Art with Artist Kristy Lee!
Boris Douglas Garbe was Born in Germany, and has worked with KoKo the Gorilla! He also taught Spanish and Sign Language! He is the Gallerist at Art Gallery at Mills Park Board of Directors at Global Peace Film Festival Podcast Host at PFT Media LLC ! Our Publisher say's Boris is a great asset to the process of rebranding of Primadonna Media Group! And a great friend! His feed back has been substantial *Please see article in Primadonna Magazine about some his amazing projects in Spring/Summer 2020 issue!* ttps://thegalleryatmillspark.com/
Featured Artist Kristy Lee was a big hit!!!
"My practice as an artist is ever evolving while exploring many facets of my mind and finally transferring it to canvas. I am inspired by everything around me. The 1st annual Beyond Beauty Brunch Business + Branding "The Power of Becoming HER " experienced the art of Androgyny with artist Kristy Lee. " My art is vibrant and creative expressions which I hope elicits emotion…"
Kristy Lee is primarily known for her abstract mixed-media paintings, some that include collages! So inspiring and so beautiful everyone said they will be getting one of her pieces….
Attempting to convey beauty in new ideas with color and form is what brings me to my studio. I do also enjoy challenging reality a bit. I would like my work to evoke the viewer to smile since I don't take life too seriously. Women and their beauty are a large part of my practice and inspiration. I do not limit myself to one style or medium. Instead, I continue to study and always make time to create new works while challenging myself in new directions. To me, art means freedom to create without boundaries and finish with a product of my own, which feeds my soul. istyleeart@gmail.com http://Www.Kristyleeartist.com
Holistic Beauty & Cryo Body Slimming
Angelique Renae Owner, Licensed Esthetician at Holistic Beauty & Cryo Body Slimming She Studied Aesthetics/Esthetics at Elise Esthetics
" Instead of Botox and Bubbles I choose Champagne and Cryoskin!" Angelique did an amazing live demonstration and the fabulous Artist Kristy Lee was the live Model! She educated the attendees on non-invasive face & body sculpting, slimming, tightening & toning. Simply Fabulous! It's true Blondes do have more fun! Especially when they are walking in their Purpose + Power!
Patricia Nash was a big help as she performed the role as Project Manager! Making sure everyone & Everything went smoothly! Her help was invaluable! Mere words cant express our appreciation and gratitude! This is the embodiment of Women helping each other! https://www.facebook.com/patricia.gimeneznash
We wanted to extend a big thank you to Janie Lacy CEO and Founder of Life Counseling Solutions and Angel Richards Founder of Clutter Free Society!
They were part of out Hot Talk Panel Discussions! Janie and Angel brought the heat! The hot topics were exactly what our attendees needed to hear and experience! God gave us the right words at the right time!
Janie Lacy is America's Favorite Psychotherapist. She is a nationally known psychotherapist and licensed mental health counselor, a nationally certified counselor, and a certified sex addiction therapist. She is also a respected television commentator, author and founder of Life Counseling Solutions in Maitland, Florida.
Meet Angel Richards Founder of Clutter Free Society!
We also wanted to extend a big thank you to Angel Richards who is a mother of 4, life coach, educator, and entrepreneur. She is the CEO of Helping Others Transform, a lifestyle empowerment company dedicated to helping women de-clutter their lives, create breakthroughs and become unstoppable. She is also the leader of the #clutterfree movement that has women worldwide focused on having unlimited clarity, undeniable confidence, and unshakable courage so they can move past their hurts, habits, and hang-ups in life & love. She truly helps women de-clutter mentally + emotionally so they can experience more peace, happiness & success! Our type of Woman!
Angel then founded Clutter Free Society providing classes, coaching and a community of like-minded women who are committed to working on themselves and winning every single day. She is a sought after life coach that has helped thousands of women transform their lives from clutter to clarity. She is also the author of the transformative self-help book Clutter to Clarity: A Simple Guide to Decluttering Your Life, Reaching Your Goals & Living Your Dreams.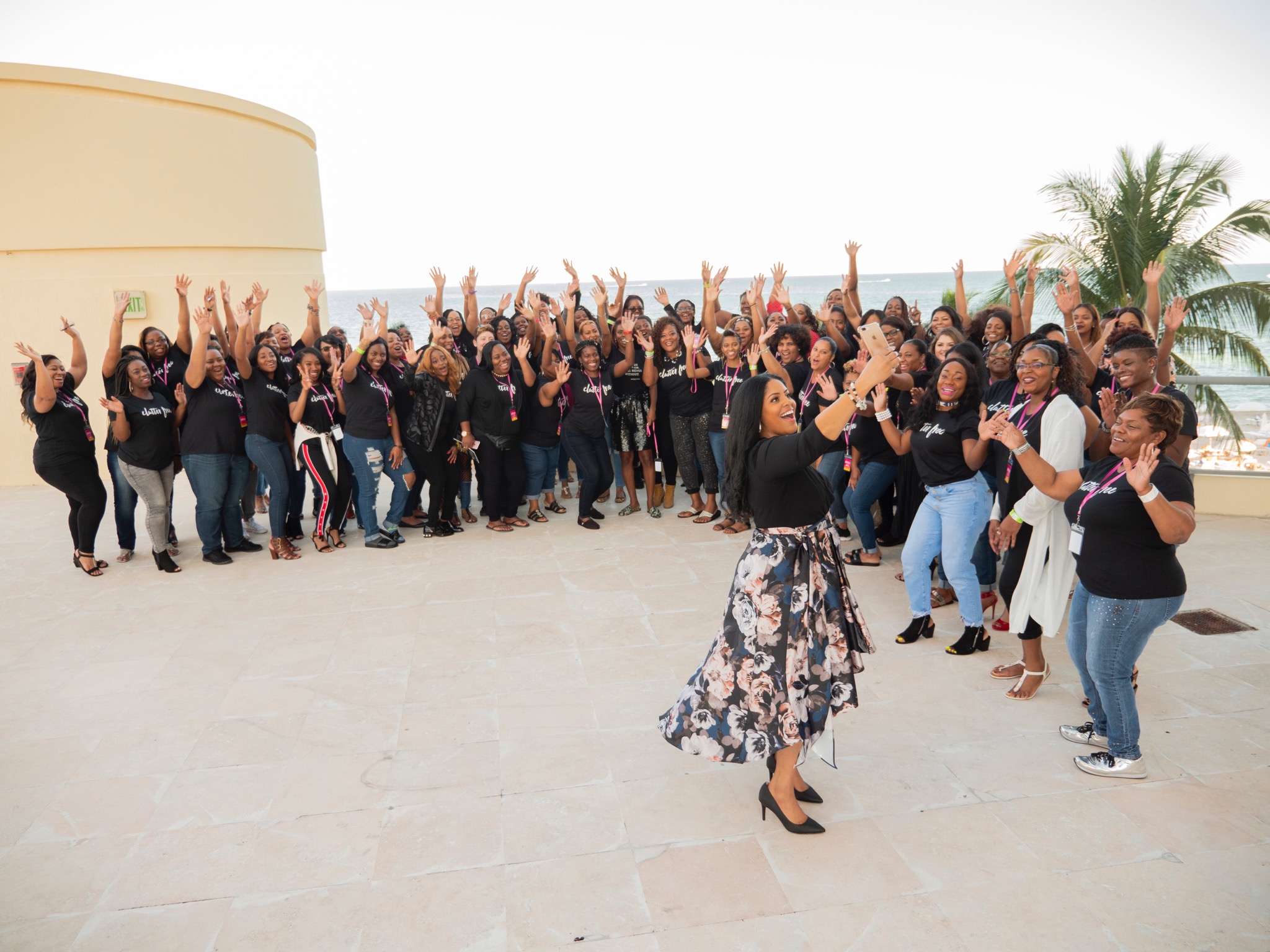 What we love is when Angel say's " I like consistency. Do not introduce me to a vibe you cannot maintain!" She's truly is a woman after our heart! A PRIMADONNA for sure!"
Sisters Empowering Sisters! We are better together!
Throughout the event, multiple speakers, panelists forums and a seminar experience setting guest speakers educated attendees on everything from Empowerment, Fashion, Beauty, Wellness, Self-care and Tanning and so much more! Erica said " What is truly inspiring about " The Power of Becoming HER " experience this particular program deepens our understanding of self -awareness! And I look forward to next year and I will be adding a this new expertise to my resume! Erica is truly an inspiration at such a young age she truly is focused on building a successful business, brand and family! She is engaged and currently planning her destination wedding! She shared how this moment was ironic and a full circle experience! Because she remembers how Madonna used to tell her you "are little Primadonna" all the time! She actually was the miniature bride at Madonna's wedding when Alexis married her brother! A real Sister's Circle moment! "I am truly honored to partner with my sister Madonna Alexis! Beyond Beauty Brunch Business + Branding is a full-day event ! " Women attendees are Female Leaders, Entrepreneurs & Executives who are looking to grow Spiritually, Personally and Professionally! Please join us in 2020! "I cant wait and looking forward to connecting! https://www.instagram.com/_nurse_erica/?hl=en
" Erica's leadership was invaluable the day was a great success.! Thank you again for being the 'grand master' of our ceremonies " – The Primadonna Team
Primadonna Women Network Sister2Sister!For New +Inspiring Entrepreneurs
Girl Talk: TRIUMPH over trails with Saniece Symone
Saniece Symone, is the owner and founder of Hair Eye Am Beauty Bar! She is a master cosmetologist, specializing in the various degrees of hair styling, hair care and beauty services. Hair Eye Am provides innovative looks through in-depth knowledge of hair styling, hair coloring! She also has mastered the artistry of makeup application and fashion stylist.
Saniece has been across the nation as a platform artist for various hair companies and has always generated positive energy and customer satisfaction. Also to date, she has been lead stylist for weddings, editorials, fashion shows as well as photo shoots. As a hairstylist who has been in the industry of creating and enhancing Women's beauty for over 15 years. However she was at the event as a guest speaker because she battled stage four Cancer last year! How she triumphed over the adversity in her life is what makes her such a powerful role model for Women! She was very impactful regarding faith and standing strong! Saniece had to maintain a Mind of Steel! "While laying in the hospital bed, the Holy Spirit came to me after praying and gave me a vision! " On Sept, 6 2019, Is the day that I found out "I'm Cancer free! When I went for my one year annual check up and walk out literally shouting and thanking God for His Grace and Mercy! She said through the storm it was only God that helped her be strong + Believe she would live! She Empowered the attendees with inner strength! Great job! https://www.facebook.com/saniece.hunter/about
PRIMADONNA ROCKS A REAL CROWN
Last however not least! Candi Bryan, Mrs. Corporate America 2019 gave an inspiring testimony over over coming and moving forward! While most pageants have a reputation for glitz and glam, the mission of the Ms./Mrs. Corporate America (MCA) organization is to recognize the accomplishments of women all over the world and give them a platform to empower others. In 2016 Candi was diagnosed with stage 3 breast cancer. Following chemo, double mastectomy, radiation, and reconstruction Candi turned the process into purpose by hosting and producing her own show called "Good Morning Ladies", an inspirational podcast for women. She has also JUST released her first women's devotional called "PEACE & HOPE in the Midst of Cancer".

In 2019 Candi stepped out of her comfort zone to compete in Ms. Corporate America and won 1st place. She has spent 18 successful years in corporate America with the same company, in Sales and Project Management. The pageant has given her a platform to make an impact in the community.

Candi has an MBA from the University of Phoenix and is a proud UCF Knight with a BA in Broadcast Communications. She is a Mom to her daughter who inspires her to live every day to the fullest!
Co-Founder of The Warriors Brunch with Vanessa Echols, a breast cancer survivor event Business coach at UCF, Women's Breast Health advocate and speaker! ​Three years ago, I felt like all my womanhood was taken. My hair was gone, my breasts were gone, and my life as I knew it was gone. Everything changed after breast cancer. I thank God for his mercy and his journey. The journey and the trials we have to go through, make us who we are. They are part of our purpose.

Candi Bryan, Mrs. Corporate America 2019 "I am so overwhelmed with what God has done. Words can't really express how grateful I am to have won Mrs. Corporate America 2019. I couldn't have done it without my family and friends helping me to get here. Thank you so much!" The Primadonna Team is so proud of her tenacity and drive! Well done! Hey Prima check out https://www.candibryan.com https://gmladies.podbean.com Powerful Interviews and Talks to Inspire Women Worldwide! For any media inquiries, please email inspire@candibryan.com:
Phone: 407-630-9433 Email: inspire@candibryan.com
Here are a few testimonies from Primadonna Magazine's first Annual Beyond Beauty Brunch Business + Branding! " The Power of Becoming HER"
" Vision + Purpose is God Given! Dont follow what people are doing! Do what you are called to do!" -Madonna Alexis Editor+Publisher of Primadonna Magazine
" I am super proud of my friend Madonna Alexis for stepping out in faith in her vision of bridging BEAUTY, BRAINS, BRANDING and BEYOND (FAITH). For many are called, but few are chosen. Matthew 22:14
Thank you for listening to the call to do something different and impactful! It was not just another Orlando event but a gathering of people who want more and to go deeper within in themselves to be planters and not just fruit pickers! I was humbled to be part of the inaugural brunch as a speaker and planter! Continue to stay focus on what God has for you, because what is for you is FOR YOU! You are the vessel to be used to impact many….love you sis!! 😘🙏🏽❤️ "-Janie Lacy Relationship Trauma Expert, Licensed Psychotherapist, & Owner of Life Counseling Solutions.
" Wow. Wow. Wow. Let me just say- today was so amazing! Such an honor to be apart of the panel at The Power of Becoming HER| Beyond Beauty Brunch. Queen Madonna Alexis you put on such a fabulous event…lives, brands and businesses were totally transformed! Thank you gorgeous for having me and allowing me to pour into your people. Can't wait to see what's next!" 💓 #iamaprimadonna #primadonnamagazine #beyondbeautybrunch2019– Angel Richards- Life coach, educator, and entrepreneur. She is the CEO of Helping Others Transform and Clutter Free Society.
" I had such an awesome time at " The Power of Becoming HER," Beyond Beauty Brunch Business and Branding on this past Sunday. Thank you Madonna Alexis for putting together an amazing event! It was a wonderful event and I'm so glad that I attended ❤️❤️❤️❤️ " 🌸🌸-Carole Davis
I just wanted to thank you for extending the opportunity for my to vend at your event! I must say that it was more than I expected! To listen to you and the other speakers who experienced tragedy and recovery and lived to tell a testimony was beyond amazing! Whatever God has ordained you to do continue to walk into your purpose! There was so much I received today but I just want to say it was a pleasure to meet you in person and thanks for hosting such a beautiful event! I can't wait for the next one. Thanks to my customers who took the time to shop with me!- Jwana Mathis Cameron Paparazzi
This was such an amazing experience to share a piece of my journey with some incredible women! Can't wait to next year!!😘😘🥰🥰 –Saniece Symone
Amazing event! Cant wait to see the vision God have you for next year!-Jamila Anderson Nicholson
Such a Fabulous and Inspiring event!!🙌🏽🙌🏽💃🏽💃🏽💃🏽 Thank You being obedient to God!!🙏🏽🙏🏽 – Mimi Foxx
Thank you Dé Johnea Thorpe for allowing me to walk in your design. It made me feel beautiful. – It was an amazingly inspiring event.
Yesterday was a difficult day for my family but I honored my obligation and was blessed to be among so many beautiful women at the Female Empowerment Brunch! What a meaningful event Madonna Alexis!- Gabrielle Timothy