Bright Eyes and Bold Lips were seen everywhere at New York Fashion Week, including on models' Nails.
At Anna Sui, makeup artist Pat McGrath used her Mothership eyeshadow palette in "La Vie en Rose"

create a feather-like, pink-and-purple look. For Christian Siriano's 10th anniversary show, e.l.f.'s Polly Osmond coated lids in hot pink. And at Jeremy Scott, MAC makeup artist Kabuki created a futuristic, geometric cat eye in a variety of colors, including dusty pink. Celebrity makeup artist Patrick Ta, who's painted rosy lids on Joan Smalls, Priyanka Chopra, Allison Williams and more, says the daring color isn't hard to rock in real life — as long as you follow a few rules.
Runway beauty is about much more than hair and makeup, the complete look includes nails. Exaggerated eyeliner, acid neon colors and floral headpieces may have grabbed our attention during the Spring 2019 runway shows! However all the drama happening around the eyes distract us from the manicures since there were many gorgeous looks at the shows in New York, London, Milan and Paris to draw inspiration from.
SS19 Nails Spring 2019 Nail Trends
Many have been glitter-phobic, and will testify, but with all the pretty, shimmery looks coming out of New York and London. Fall/ Winter 2019 Nail Trends are full of bold patterns and creative features that will elevate any look.
All of the fall 2019 fashion shows in New York, London, Milan and Paris saw a carefully curated set of stunning nail designs that ranged from avant-garde to diamond encrusted
fantasy inspired! From reverse French manicures to neutral nails, these were the biggest Fall nail trends 2019 has to offer.

We are slowly coming around! Bravo for forward thinking creativity! Absolutely Fabulous!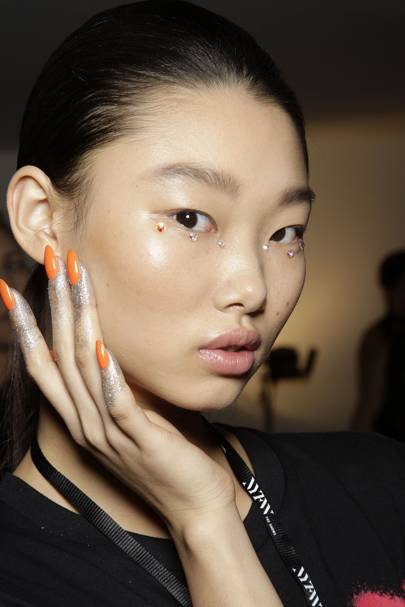 Nail art is always a runway staple and it's often where manicurists show just how imaginative they can be. In terms of colors, Spring 2019 season showcased dark nail colors. It seems the seasons have done a flip-flop with pastels and electric shades currently trending for fall. If you're wondering where all the red and hot pink have gone? Neon has taken over somber tones with romantic pinks, oranges and energizing yellow manicures.
Whether you're searching for something chic, nude, or a little extra to put your manicure skills to the test, Spring 2019 shows offered nail art at it's finest!